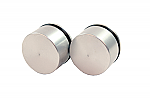 See details
MCP Cast Caliper Rebuild Kit
This caliper rebuild kit is designed to rebuild the MCP Cast brake caliper system. It comes with two pistons, and 2 piston o-rings, and should help restore some stopping power in your old caliper.
---
See details
MCP Cast Master Rebuild Kit
This master cylinder rebuild kit comes with everything you need to rebuild your MCP Cast master cylinder from the ground up. This kit should help increase the performance of your worn out master cylinder.
---