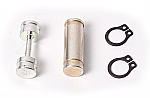 See details
Hilliard Tuning Shoe Weights
Need a little extra engagement on the clutch but can't get there with the springs? Using these adjustable weights in the clutch shoes can help get your clutch dialed in finer increment.
---
See details
Hilliard Flame Drive Sprocket
This Hilliard flame drive sprocket is durable and easy to install in seconds. It comes in a #35 chain pitch, in a variety of tooth sizes.
---