NEWS
A Margay 1-2-3 at Route 66
Latest
Tuesday, 19 July 2011 16:22
The Margay Rookie drivers had a great showing in the Yamaha Rookie Lite class at the fourth round of the popular Route 66 Sprint Series at Concept Haulers Motor Speedway. After a hard fight, three Margay drivers swept the podium. The finishing results were as follows:
Luke Kohlbecker (#5)
Brendan Trent (#36)
Evan Moore (#10m)
Clearly the Margay Rookie chassis is the chassis to beat in this competitive young Rookie class.  To find out more information about the dominant Brava Rookie, head on over to the Brava Rookie Information Page.
Thursday, 23 June 2011 00:00
Lots of great deals available at our updated used kart listing. From Cadets to TaG's and everything in between, we've got a deal on a winning chassis for your class. Need an engine installed to complete the package? No problem, tell us what you want and we'll put together a quote on a complete, turn-key package.
Now is a better time than ever to get off the couch and onto the track!
Some of Our Used Karts.
Click on the links or images below for more information on each kart. View our full listing here.
---
New Product-Billet Steering Bearing
Monday, 13 June 2011 00:00
New Product Update
We've come up with a really trick new part to clean up the steering bushing, upper fairing mount, beacon mounting and steering lock area of the kart.
Designed here at Margay and made in the USA our new kit is like a Swiss Army knife for a kart.  We've combined the upper steering bushing and upper fairing mounts and integrated a steering lock while also adding provisions for mounting your MyChron beacon and TaG ignition components.  And just for good measure, we made it considerably lighter than the traditional pieces that it replaces.
We think it looks pretty sexy too...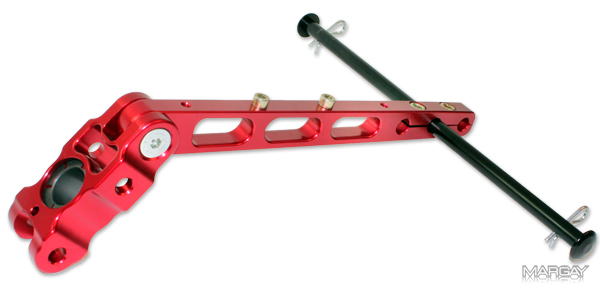 Notice that the fairing mounting pins are retained on the inside of the faring...unlike most euro karts which have those nasty looking clips outside the fairing...
And speaking of euro karts, we make a version for 20mm steering shafts too...
Check out our new SBTLFM-1 here.
Monday, 06 June 2011 00:00
Bridgestone really got it right with the new YLB compound tire and demand far exceeded early supply in early 2011. The WKA spec tire for all TaG classes has been praised for its outstanding grip and durability and has quickly become the tire of choice for many TaG & Shifter drivers.
We are now fully stocked with 4.5 & 7.1 YLB tires as well as all other compounds including the new YLH which is now the tire to beat in Road Racing.
Please see our Bridgestone Dealer Listing for your nearest Bridgestone reseller.
Saturday, 19 March 2011 00:00
The Route 66 Series has just published their new schedule.  Check out the series where the best in the Midwest will be running in 2011!


<< Start < Prev 1

2

Next

>

End

>>


Page 2 of 2